Mission Statement:
We will listen to how heel pain is affecting you, diagnose and treat your heel pain in the quickest and most productive way that suits you as the patient. We promise to fully inform you of your diagnosis and ultimately resolve your pain and improve your lifestyle.
At Canberra Heel Pain Institute (CHPI) we wanted the complete solution to heel pain management which is why we have a range of various professionals and organisations who all form part of the group.
Matthew Hotchkis is the founder and principal podiatrist of CHPI and has developed a detailed group of professionals who have their own expertise in diagnosing and treating heel pain. They include:
Bianca Knight – Podiatrist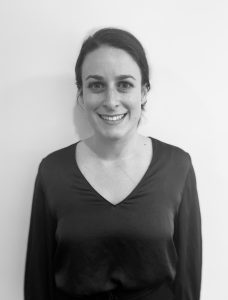 Bianca graduated Podiatry in 2014 with Honours from Charles Sturt University Albury, with her honours research focusing on return to play after lower limb injury in amateur soccer players.
Bianca spent two years in a high-risk foot clinic in Newcastle treating a wide range of wounds and diabetic foot complications. She then moved to Canberra and joined the CHPI team to pursue her interest in sporting injuries and the paediatric foot. Bianca enjoys all other aspects of podiatry including nail surgeries and general foot care and has a passion for helping people enhance their quality of life by improving their foot function and pain. She is currently the ACT Brumbies Academy and Brumbies Women's podiatrist and has seen many athletes over her time here at CHPI. She is a current member of the Australian Podiatry Association and the Australasian Academy of Podiatric Sports Medicine.
Bianca has lectured for the podiatry course at Charles Sturt University and has written and lectured several foot health courses for registered training organisations.
She grew up playing soccer, dancing and swimming, loves dogs, is an Army Reservist, and enjoys spending time with her family and at the beach.
Jake Cameronne – Podiatrist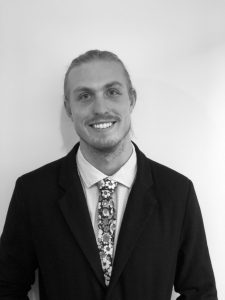 Jake graduated from the University of Newcastle in 2016 with a Bachelor of Podiatry and joined the CHPI team in 2018.
Jake grew up on the Central Coast of New South Wales, where he enjoyed playing rugby union and basketball growing up. He has a keen interest in all sports and the outdoors, which lead him to finding a role in a sports podiatry clinic.
Jake enjoys working in all aspects of podiatry, although he particularly enjoys working within a biomechanical, sport and rehabilitation setting. He has developed his professional training and gained accreditation in dry needling with an expert focus on Achilles tendinopathy and completed a masterclass course in tendinopathy rehabilitation. Jake continues to attend State and National Podiatry conferences to be most up skilled and updated on evidence-based treatments.
Jake is an effective communicator and enjoys interacting with others. His focus on helping others provides him with great satisfaction when resolving pain and discomfort in patients. Jake is dedicated in improving his skills and building his knowledge as a podiatrist. He looks forward to developing his biomechanical skills within a private practice and is committed to providing the best possible treatment plan for patients.
As Jake has progressed in the sporting field of Podiatry and biomechanics, he has been named and appointed as the Podiatrist for the Academy A.C.T Brumbies team in 2020 and enjoys providing treatments for these players to aid in their development to the elite status.
Outside of the clinic, Jake likes to keep active and is an avid snowboarder and Rugby union player throughout the winter and during the summer he likes to get outdoors camping and surfing.
Jock Sinclair – Podiatrist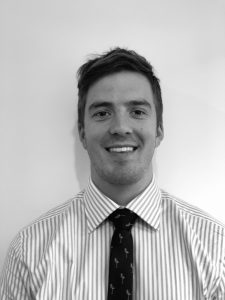 Jock Sinclair graduated from Charles Sturt University Albury in 2018 and joined the CHPI team in 2019. He has an enthusiastic personality with a strong passion for diabetes management and biomechanics. Jock intends to focus his continued professional development points around these aspects of podiatric care.
Jock grew up in the central east and far south coast of New South Wales. These environments installed an active lifestyle which he still maintains today through bike riding, swimming, touch football and cricket. Due to this, the opportunity of joining a sports podiatry clinic focused on biomechanics whilst maintaining universal podiatric skills was very appealing for him.
Through encompassing a holistic healthcare approach with emphasis on open communication he hopes to bring about the best overall outcome for patients and fellow staff members.
When Jock is not working, he enjoys camping down the coast following nearly all codes of sport.
Matthew Hotchkis – Podiatrist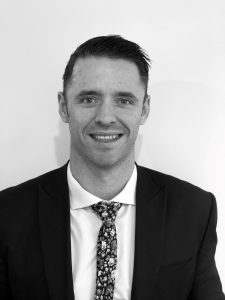 Matthew is the founder of CHPI and established the institute due to his passion to improve people's lifestyle by resolving their heel pain. Matthew has been a podiatrist for over 13 years now and after witnessing heel pain specifically restrict so many people's lives, his mission was to provide an all-inclusive solution.
Matthew has a wealth of experience in treating various heel pain conditions having worked in roles in public hospitals, the podiatrist of the Australian Defence Force and in private practice since he graduated from University of Western Sydney in 2004. Matthew and his team of podiatrists also work in his more traditional podiatry practices, Podiatry Professionals, in different locations in Canberra but felt the need to create a more specific clinic focusing on heel pain. Given the high incidence rate and lifestyle implications, Matthew finds great satisfaction in resolving his patients heel pain whether it be acute or chronic, in children or the elderly.
As a father and long-term hockey player himself, Matthew understands the need to treat heel pain quickly and accurately to ensure that both you and your kids can keep active and pain free!
Dr Wilson Lo – Sports Doctor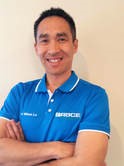 Wilson has been a Canberra boy since 1975 completing all his schooling here before undertaking his medical studies at the University of NSW graduating with first class honours in 1994. Wilson has worked around multiple locations around Australia and the world in general practice for 10 years before deciding to focus on sports medicine prior to volunteering at the Sydney 2000 Olympics. In recent years, he has been the assistant team doctor for GWS Giants, team doctor for Canberra Raiders NRL and NYC teams, Kangaroos Rugby League Team, New Zealand Junior Kiwis, Kiwi Ferns and Cook Islands Rugby League Teams. His current appointments include team doctor for Canberra Raiders junior teams, Canberra United (W league) and the Chief Medical Officer for Capital Football and the ACT Academy of Sport.
Wilson is a busy professional with many diverse roles which include initiating and working in his own Sports Medicine Clinic – Bruce Sports Medicine, assisting with surgery, mentoring students and being part of CHPI. He has years of experience diagnosing and treating the various heel pain conditions and is ideal in helping with those tricky heel pain issues!
Mr David Parsons – Physiotherapist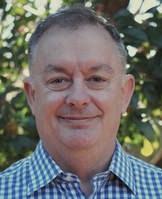 David also grew up in Canberra, completing a degree in Sports Science at The University of Canberra, before then moving to The University of Sydney to study Physiotherapy. He graduated in 1994 with first class honours and has worked in sports physiotherapy ever since. He has worked with athletes ranging from recreational to elite levels including National, Masters, World Championship and Olympic levels. David enjoys working with all members of the community regardless if you are an athlete or not, as his outlook and commitment is to always provide a thorough and personalised physiotherapy service, that is tailored to the specific heel pain needs and goals of each person. ​David has previously won awards for conference presentations, co-authored several published research papers, and has taught physiotherapy students at the Undergraduate and Masters level. He is the ideal member of the CHPI team to advise and guide you through any musculo-skeletal rehabilitation plan.
Dr Yeong Joe Lau – Orthopaedic Surgeon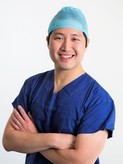 Dr Yeong Joe Lau is an Australian trained orthopaedic surgeon. He is a graduate of the University of New South Wales and trained as an orthopaedic surgeon in Sydney.  Following the completion of his training, he undertook further specialist training in ankle and foot surgery. This was in Canberra, London, Amsterdam, Liestal and Sydney and Joe now cares for public and private patients in Canberra via his multiple hospital appointments. He operates at Canberra Private Hospital, Calvary Private and Public Hospitals, Calvary John James Hospital, National Capital Private Hospital, Queanbeyan Hospital and The Canberra Hospital.
Joe would agree that surgery isn't often required to treat heel pain but take comfort in knowing that if it is required then Joe will talk you through all the available options ensuring the best possible outcomes!
---
Shoe retail
Canberra has many premier shoe retailers with various locations and options. Their range of shoes includes multiple running shoe options, trail shoes, hiking boots, turf sport shoes, football boots, sandals and even some fashion options! CHPI has a great relationship with certain retailers and can provide patients with voucher and discounts to use towards shoe purchases – that's right we even like to contribute to new shoe purchases!
NCDI Diagnostic Imaging
NCDI are experts at all imaging requirements whether it be X-ray, Ultrasound, CT scan or MRI that can be needed to diagnose various heel pain conditions. Appointments are quick and easy to get in and priority rates are given to all CHPI patients so can be confident knowing that your imaging requirements are under control.