Here at Canberra Heel Pain Institute (CHPI),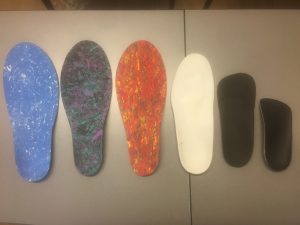 our podiatrists are qualified to prescribe a variety of different orthotic devices ranging from prefabricated orthotics to semi-custom devices to fully custom orthotics.
Our focus is to be able to cater for all patients which is why we have the most extensive selection of orthotic options to treat all heel pain conditions (and all budgets), ranging from low volume prefabricated devices to high tech, fully customised orthotics.
Having such a large range means that if you need an orthotic, at least one option can be suited to your shoes and accommodate all circumstances to ensure you get pain relief as quickly as possible (no matter what shoes you are in!).
At CHPI we understand orthotics absolutely need to fulfil three criteria: they need to fit all shoe options, they need to be comfortable under the foot and they need to be functional (to reduce your pain) which is our main priority.
Orthotics requirements are catered specifically to the individual heel pain condition and the type of orthotic device prescribed for each person depends on:
1) Age, condition diagnosed, symptoms and intensity of pain.
2) The grade and level of foot correction needed.
3) Degree of rear foot angle and arch height required.
4) Level of performance including distance of running, acceleration/speed based sports and frequency of physical activity
5) Bodyweight and growth potential of the feet.
All orthotics that are prescribed at CHPI utilise modern technology and up to date techniques to maximise the outcome and ensure accuracy with each prescription.  No one orthotic fits everyone and for this reason, we offer different types of orthotics whether it is heat moulded, prefabricated, semi-custom or digital 3D laser scanned prescription orthotics.
At our orthotic clinic, we realise that not everyone requires orthotics and our orthotic treatments are 100% focused around reducing your foot pain while also not breaking the bank. Some heel pain sufferers only require a basic orthotic or heel cup where as others require more in-depth orthotics. We identify only what the foot requires to get pain relief and advise accordingly – there is no 'over prescription'. The table below summarises the comparison:
Advantages/Benefits
Considerations
Points of Interest
Prefabricated Orthotic

Soft mouldable device
Basic customisation
Quick and low cost
No waiting time

Medical graded standard insole
Lifespan: 1 year
Prone to fast wear

Designed for shock absorption
Dual density – great for general stability and cushioning
Great for kids

Semi-Custom Orthotic

Firm supportive device
Greater customisation – more specific to foot
Resilient, quick and low cost
No waiting time

Medical graded supportive insole
Lifespan: 2 years
Need time to adjust and adapt

Designed more so for flat feet and are similar to custom devices
Supportive, functionally alters biomechanics and greater fitting ability to shoes

Prescription Orthotic

Firm/moderate/soft density available
Full and advanced customisation – multitude of features modifiable.
High tech and accurate – 3D scanned
Specifically tailored to fit shoes
High accuracy and optimal comfort and results

Orthotics are sent to professional orthotic lab for manufacture
Lifespan: 3-5 years
Need time to adjust and adapt

Designed for all heel pain conditions e.g. plantar fasciitis, Sever's, heel spur, arch pain
Supportive and functionally alters biomechanics, focuses on maximal stability and facilitation of movement.
Aim is to provide ongoing support, comfort, versality and long-term wear.
Available in carbon fibre for lightweight and better fit
Best option for rapid pain relief
As well as the traditional orthotic options, we have alternative orthotic based products that are available. They include:
A low bulk, supportive heel cup with an inbuild specific plantar fascial support. This reduces fascial strain at the heel and is designed to cushion the fat pad to reduce compression upon impact. The heel cup comes as a removable option which can be swapped between shoes or as a wrap which wraps around the foot for use around the house or when in barefeet.
Another option is an arch support insert which sticks into the shoe perfect for low volume shoes that just need that 'extra' bit of support and which a traditional orthotic may not fit into.
We also have orthotic options for women's flats and high heel shoes! We stock a slim-line, cushioned footbed that reduces the dreaded "stiletto-effect" and makes those necessary heel-wearing times more comfortable. This is perfect to compliment your traditional orthotic use and make those meetings or nights out in heels much more tolerable!
As Canberra's 'heel pain experts' we have solid background experience and a passion in working with elite athletes ranging from the ACT Brumbies, junior Canberra Raiders, ACTAS athletes and ADF members. Each day we design and prescribe specific custom orthotics to treat specific heel pain for football boots, defence force combat boots, running shoes, casual and court type shoes, cycling cletes, ski boots, even kids shoes. Supportive innersoles can sometimes improve things but there is an art to eliminating heel pain with certain orthotic characteristics – something we have spent a lot of time perfecting so we can ultimately improve your lifestyle!